A Blues Scale Pos 5 and 3 Licks.
Okay, so the first scale I usually teach my students is the blues scale in A. Why? Well, it is a very simple scale that gets a lot of use in western music and so it should be easy to assimilate into your improvising.

A blues scale in position 5: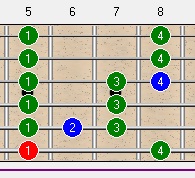 Start on the root (RED) note. I have highlighted the "blues" (BLUE) notes to give you an idea of where this scale gets its bluesy tonality. Practice this scale from root to the top note and back down with downstrokes first followed by alternate picking AFTER you have masted the left hand architecture of the scale.
Now that you have that down, here are 3 simple licks to get you started: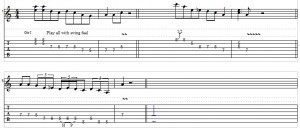 Click on the tab to enlarge it.
These licks should be played slowly and memorized, eventually played in a slow tempo then gradually sped up. Here is the video I did demonstrating the scale and the licks.
Thanks for tuning in and come back next week for the next lesson.